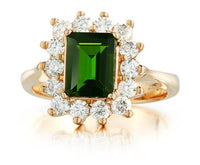 Mystery & Lore
The Astrological Gem of Pisces, Gemini and Virgo metaphysical beliefs indicate that Russalite possesses powerful attributes to support good health, happiness and prosperity, capable of connecting the wearer with nature and a heightened sense of self.
Health and Wellbeing
Russalite is believed to improve intellect, encourages the desire to learn and capable of enhancing love and commitment. Connected to the heart chakra, Russalite is thought to improve circulation and heart function.
Happiness and Prosperity
Green symbolizes wealth and success, when wearing Russalite enjoy increased creativity, self assurance and confidence which reduces stress and encourages the sense of contentment.
customer reviews
My wife was very happy with her Russalite pendant, We had seen Russalite when sailing onboard Royal Carribean but had not purchased it then, So glad we found the same piece on here. Very happy with the customer service

Vivian Andrade
Purchased a beautiful Russalite Ring in Yellow gold,Love the beautiful Green Color of this gemstone.I am very happy with my purchase, shipping and delivery was on time and the ring was made as per my size.Thank you

Lian Kennedy
This is my second purchase, I had purchased the Russalite Pendant while sailing onboard the Queen Mary 2, so glad to find the matching earrings on here.Am very happy with my purchase and was safely delivered to us in the UK.

James Long